The new generation of air-handling ceiling systems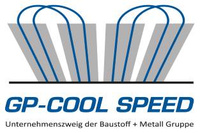 The GP-COOL SPEED air-handling ceiling system with continued assembly version and rapid availability makes it easier for processors to complete their air-handling ceiling projects. The air-handling ceiling uses radiating energy, thereby providing a heating and cooling system without dehumidifying rooms or creating a draught. It emits warmth or coolness at a steady rate so that the room temperature settles at a pleasant level.
Complete heating and cooling system
Tested, patented quality (AT)
Reasonably priced and easy to process
Quick, robot-assisted installation
Low structure height
Upgradeable
Silent and acoustically effective
High proportion of radiant heat, no draught
No dust swirls
Hinders development of bacteria, mildew and mites
Ideal indoor climate, high level of comfort
Well-balanced indoor temperature gradient
High-quality service and support from planning through to installation
The Cool Racer robot ensures easy installation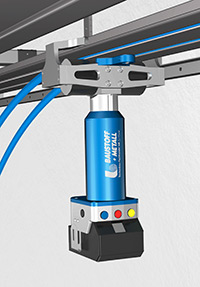 The revolutionary GP-COOL SPEED system can be installed quickly and flexibly directly on site – with a minimum of joints and fittings. At B+M, we've developed the Cool Racer 1.0 robot for easy, effortless installation. It presses the pipes into the profiles quickly and precisely. The use of high-performance batteries means the Cool Racers are easy to handle on construction sites. The benefits to you in terms of time, budget and quality are enormous.
The next stage: Cool Racer 2.0
In order to install the system even more quickly, B+M developed the Cool Racer 2.0: a more compact and lightweight version of the Cool Racer 1.0, it also works twice as fast as its predecessor. As a result, installation of the GP-COOL SPEED air-handling ceiling system is even easier and can be completed faster yet.
Try the impressive GP-COOL SPEED system for yourself. Baustoff + Metall can advise you from the very outset in all aspects of planning, design, installation and service. You can rent the Cool Racer for easy installation – simply get in touch!
How the GP-COOL SPEED works: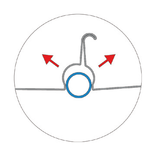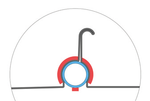 Inside the ceiling panels, plastic pipes – pressed into special heat-conducting profiles – transport warm or cold water. In so doing, the ceiling panels act as an energy distribution system. In cooling mode, the heat in the room is absorbed by the ceiling system through radiation, transmitted into the circulating water system and subsequently led out of the room. As water is a considerably better conductor than air, your energy costs could be cut by up to 50%!
Profiles instead of endless measurements and planning
Profiles that can be shortened or extended as desired create flexibility and require no additional production time. You can start your air-handling ceiling project straight away, as all products are stored in our B+M branches.
Continuous piping instead of connectors and sleeves
As the pipes are installed on-site, there's no need for connectors or fittings in the ceiling, which reduces construction time.
"Clamping effect"
The clamping effect generates a high contact force between the pipe and the profile.
This B+M GP-Cool Speed patent (AT) guarantees excellent cold and heat transmission.
Large contact surface of pipes
With our B+M GP-Cool Speed profile the transfer surface between pipe and profile amounts to approximately 70 %. Additionally, the direct contact of pipe and gypsum board enlarges the transfer surface still more, which enhances the profile performance.
Direct screw connections
Direct mounting ensures the best possible contact of board and heat-conducting profile. Like this, it is assured that the profile performance is also transmitted to the room.